Chimney Repair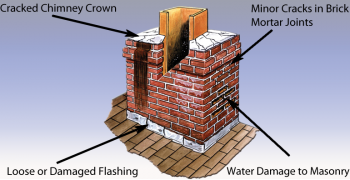 Is your chimney damaged? Has it aged poorly? Safe, functional chimney's are our business!
Chimney Repair in Rockford, IL
We believe in repairing your chimney before the need to completely rebuild it. Choosing our chimney repair services when you first notice brick erosion or cracking could potentially save you the hassle and cost of having to rebuilt the entire chimney. A+ rated customer service is our passion and we work hard to get the job done efficiently to save you money!

Chimney Repair Signs
When it comes to your chimney, it's hard to tell if everything is working properly if you're unsure what you should be looking for. Let us help! If you're questioning your safety when it comes to your chimney or fireplace, there are some visible signs that repair may be needed. Take a look below and see if any of these signs look familiar with your chimney and if you need chimney repair.

Damaged Mortar Joints
Look for signs of missing (or failing) mortar joints between the bricks in your chimney, you may need need a rooftop vantage for this. Try taking a small knife and probing the bricks to see if they're loose or crumbling. If the bricks can fall out easily, that means that your chimney can be exposed to moisture and when water gets into small cracks in the masonry, they can turn into large cracks, particularly as a result of freezing and thawing. Conclusively, if the problem isn't addressed, the chimney could collapse.

Rusted Damper or Firebox
If you see rust in your firebox or on your damper, there's a chance that there's moisture already in your chimney and that means that something isn't operating the way it should be. Take a closer look, if the damper is difficult to operate or isn't sealed properly then you've got rust which means there's moisture coming in through the chimney. Moisture in your chimney will cause rusting which then leads to numerous issues like cracking of the flue tiles. Deteriorating or cracking flue lines are extremely dangerous, it could allow too much heat into culnerable areas that could result in a house fire.

Spalling Bricks
Spalling bricks are fairly simple to spot on your chimney, basically bits of masonry will fall from your chimney. This occurs when water enters brick, natural stone, or concrete and forces the surface of the masonry to pop out, peel off, or flake off. The ultimate outcome of failing to repair spalling masonry is continued crumbling and eventual destruction of the structure.

Shaling Flue Tiles
If you see thin slices of chimney tile pilling up at the bottom of the chimney, there's a chance that you have shaling flue tiles. Cracked and shaling flue tiles are signs of a serious condition which, if not resolved, could result in a house fire. Unfortunately, while shaling flue tiles are easy to spot, you'll need a professional to identify if your flue liner is cracked.

Cracked Chimney Crown
Checking to see if your chimney crown is cracked or not will require you to get on the rooftop. The crown of your chimney is your first line of defense against all of the outdoor elements so it's important for it to be in good condition. If it's cracked, water will get in and cause bigger issues for you and your chimney as time goes by. A damaged chimney crown allows moisture to seep between the chimney and the liner as well as into the chimney, which can cause shaling and spalling.

Damaged Wallpaper
One of the easiest ways to tell if your chimney needs to be repaired is if you have damaged wallpaper around the areas of your chimney.
Rockford Chimney Repair
TCB Masonry has over 30 years experience providing prompt, reliable chimney building, cleaning and repair services to homeowners and commercial business accounts throughout the Northern Illinois and Southern Wisconsin area. Based in Rockford, Illinois our services include chimney building, chimney sweeping, chimney and fireplace inspection, chimney repair, concrete chimney crowns, chimney caps, draft inducing chimney exhaust fans, clay chimney pot tops and top mount fireplace dampers and gas log installations. We do it all, so you know the job will be done right! Contact Us today for a FREE estimate.

Give us a call today when you're searching for the right contractor in Rockford who specializes in Chimney Repair!
Take a look at some of TCB Masonry's happy customers below:
TCB Masonry
5
TCB Masonry
TCB Masonry
We hired TCB for our chimney that needed to be rebuilt. We needed the job done quick. They were able to get out there for us fast and did an outstanding job! Chimney looks great and clean up was so good you couldn''t tell they were even there.

Cara
TCB Masonry
5
TCB Masonry
TCB Masonry
I would highly recommend TCB Masonry. I initially put a request in on their website on a Sunday afternoon for a chimney repair and TCB responded within the hour! Otto and his team were very professional and completed the work later that week. I then had TCB repair chimneys on two other houses. I'm very pleased with their work!
John O'Connell
TCB Masonry
5
TCB Masonry
TCB Masonry
The chimney on my home was severely damaged by a fallen tree branch, and an old cracked basement well window needed to be replaced with glass block. Otto Szilveszter came to my home the same day that I called TCB, and he was immediately able to give me a very fair estimate. A few days later, Otto and his crew arrived to fix the problems. They were very courteous and professional, and I could not have been happier with the quality of their work. All of the bricks on the top third of my 70 year-old chimney had to be replaced, and I especially appreciated that Otto made the effort to find bricks that perfectly matched the existing chimney. As a homeowner it has often been difficult to find contractors whose work truly exhibits a caring attention to detail, but I was so pleased that Otto and his crew delivered the quality work that was promised. Once the job was completed, Otto''s wife Lisa made certain that the job site had been thoroughly cleaned and that all work had been completed to my satisfaction before accepting my payment. TCB proved to be a well run business that I would highly recommend.
Melissa
TCB Masonry
5
TCB Masonry
TCB Masonry
Amazing experience! Best service and quality I have seen for a very long time. They were here when they said they would be here. They had the work done when they said it would be done. They cleaned up so I didn't have to worry about my dogs getting in anything. Very professional and went above and beyond all of our expectations. All that and fair pricing, too. I highly recommend them!
Sandy Bliss
TCB Masonry
5
TCB Masonry
TCB Masonry
When we contacted Otto, we had already had 2 other estimates (one was way too low & the other one was well over our budget and included extras that were not needed. We found TCB here on their website and we were very impressed with the photos from other jobs. Otto provided a fair price quote for exactly what we needed, and was very matter of fact, and left the decision up to us, (no high pressure sales) The job was done in a very reasonable amount of time (wish i could have been home to watch them work!). Our property was so clean when they were done that we would not have known they were here -except for the spectacular finished work they left behind! Our chimneys look awesome and have the same style as the originals which was important for us on our 120 year old home. The best on the block! Now we don't have to worry about them crumbling anymore! We would highly recommend TCB to anyone needing chimney or brick work done. Thanks Otto & team for such great work!!
Spectacular Work on a 2-chimney project!
TCB Masonry
5
TCB Masonry
TCB Masonry
The brick from my chimney was breaking apart due to improper installation. I called TCB Masonry and they did an excellent job. They were very honest and explained everything thoroughly. I am very pleased with the work and highly recommend TCB Masonry!!
Highly Recommended
TCB Masonry
5
TCB Masonry
TCB Masonry
We were so impressed by the craftsmanship & the professionalism of the TCB team. They were all so friendly and down-to-earth and from the start they led us through the journey of transforming our chimney by helping us pick out the perfect stone. They were meticulous during the install and clean-up. And the finished product? BEAUTIFUL & SO IMPRESSIVE!!! Thank you so much Otto, Lisa, and the TCB Crew!! We LOVE IT!!!!
One word – IMPRESSIVE
TCB Masonry
5
TCB Masonry
TCB Masonry
A+ quality job. Can't even find any broken brick pieces from the old chimney you replaced. Great job cleaning up after yourself. Quality pictures of the finished job. Don't really know how you can make it better. Anyway go ahead and share my address or pictures to others if you like. Thank you
A+ Quality Job
TCB Masonry 5 5 8