Brickwork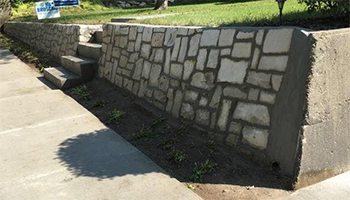 There are a large number of brick and stonework manufacturers.  Our masons at TCB can often determine who made the original brick and try to obtain more of the same material from the manufacturer, or find a comparable match if the original company is not a reasonable option. We will bring samples out before any laying is done to make sure you are satisfied with the match.
Brick Restoration and Repairs in Rockford, IL
Here at TCB Masonry, we know that selecting a contractor to do your brick restoration can be rough if you're unsure where to start. Trust that our team of highly qualified experts at TCB Masonry are here to help make your decision easier. We specialize in residential and commercial masonry restoration and installations right here in Rockford, IL and work through Northern Illinois to the Southern Wisconsin region.
Stone and Brick Masonry Contractors
TCB Masonry specializes in bricklaying and brickwork services including:
New Construction
Masonry Walls
Chimney Restoration
Fireplace Restoration
Brick Restoration (for any application)
Brick Sills
Block Foundations
Repair and Removal
Rockford Brickwork Masonry Contractors
If you're sick of looking at those hideous cracks in your masonry wall or unattractive bricks in your brick sill, give TCB Masonry a call. We can help repair and restore almost any brick work structure and bring back it's original beauty (or give it a complete makeover). Trust that our team of experts here at TCB Masonry spend the time matching your mortar and work on matching it to its surrounding area to ensure its beauty.

Give us a call today when you're searching for the right contractor in Rockford who specializes in Brickwork Restoration, Masonry, and Chimney Repair!
---
Take a look at some of TCB Masonry's happy customers below:
TCB Masonry
5
TCB Masonry
TCB Masonry
I hired TCB Masonry for my brick/stone work while building my home March 2015. I was VERY impressed with the professionalism of Otto (owner of TCB), he did more than enough to make sure I was 100% satisfied. The customer service was unmatched by any other tradesman I have ever dealt with, at a very reasonable price. I can't thank TCB Masonry enough for the awesome job they did on my house (2,000 sq. ft.), it was finished in 3 weeks from the day I first contacted them. HIGHLY RECOMMEND them to all my family and friends or anyone in need of brick work!!!! Would definitely hire them again!! THANKS AGAIN TCB MASONRY!!!!
Jack
TCB Masonry
5
TCB Masonry
TCB Masonry
I called TCB and Otto came out to my home. After describing what I needed and listening to him, I hired him ''on the spot''. The crew came out on Friday and finished up on the following Wednesday. Both chimneys look EXCELLENT! The workmanship exceeded my expectations. After the work was completed, the crew went the extra mile and cleaned up the lawn around the larger chimney and even cleaned off my neighbors driveway. I made a wise choice -and you will too when selecting TCB Masonry for your stone or brick work. Thanks so much.
Mike Drennen
TCB Masonry
5
TCB Masonry
TCB Masonry
TCB is a very professional masonry company performing services at very fair pricing. I need some mortar / brick repair before the winter elements set in and they got me in right away. They even touched up several other areas of my brick stoop. It looks good as new. I highly recommend them. Thank TCB masonry <3
Monica
TCB Masonry
5
TCB Masonry
TCB Masonry
Otto and company did an amazing job fixing some brickwork on our 200 year old home. If fact you can't even tell where they did the work it's so perfect. Now that we need a second spot worked on my immediate thought was TCB. We will go to them for all our masonry needs. Perfect match, great to work with, fast and honest.
Rhiannon Fox Stanuch
TCB Masonry 5 5 4