Stonework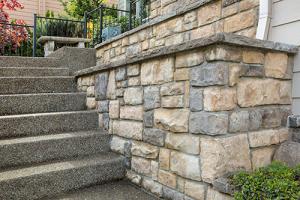 As you know, stonework can add style and value to your property. Our experts at TCB Masonry are here to take care of all of your stone work needs! Whether it's installing, replacing, or repairing stone, our masonry experts know how to handle it all.
Stone Masonry Contractors
TCB Masonry has over 30 years of experience when it comes to stone masonry. We specialize in installing stone walkways, stone fireplaces, stone walls, and much more for residential and commercial properties here in Northern Illinois and Southern Wisconsin. Trust in the stone masonry contractors in Rockford, IL to provide you with one of a kind stonework pieces that you'll love for years to come.
Stonework Masonry Rockford IL
Here at TCB Masonry, we take pride in making sure that your stonework installation is the best it can be. Our team of experts will work with you from the initial consultation, through the designing, and all the way to the end of the installation to ensure that you're getting exactly what you dreamed of. Some of the projects we've specialized in are:
Stone Walls
Stairs
Fireplaces
Patios
Walkways
Retaining Walls
and more!
Let our team of experts at TCB Masonry work to create stonework that will ensure to visually add to your home while expanding the value of your home. Look no further than TCB when you searching for stonework masonry in Rockford, IL.
Give us a call today when you're searching for the right contractor in Rockford who specializes in Stonework and Chimney Repair!
---
Take a look at some of TCB Masonry's happy customers below:
TCB Masonry
5
TCB Masonry
TCB Masonry
I have an over 70-year old stone wall that was in disrepair. Stones were broken to the point that we were afraid to power wash any longer. The cap on the wall had almost completely disintegrated. All of the grout had to be replaced along with some stones. TCB had all of the work done within 3 days despite the rain. It is beautiful. The workers were always on time and were very respectful. Neighbors walking by have commented on how beautiful the wall now looks. It has certainly added to curb appeal. There is more work that we are going to have them do next year on our chimney and the side walls of our drive way which are also deteriorating. their work looks great!
Karen Hoffman
TCB Masonry
5
TCB Masonry
TCB Masonry
These guys are tops!!! They are spot on in dimensions they need to cut, and they leave your site spotless. The absolute best in they will be there when they tell you they will be there. Very trustworthy, very responsible, locally owned and we will recommend and use them again. Great Team!!
Mark Schlichting
TCB Masonry
5
TCB Masonry
TCB Masonry
We highly recommend TCB Masonry for prompt and professional service. Lisa and Otto went above and beyond to make sure our needs were met. We appreciated their communication, willingness to work with our schedule, and patience with our questions! We were so impressed with their work! Thanks again!

Melissa Berg
TCB Masonry
5
TCB Masonry
TCB Masonry
We were looking to do a facelift on the front of our home. Through a contractor who was doing a drywall repair job he recommended TCB Masonry. From there I met several times with Otto, changed things a lot and in the end landed on the job we wanted done by adding cultured stone to our home. Otto and his workers Nick and Roberto were very friendly, willing to discuss what they were doing , checked in with us several times when they had questions on how we wanted something to look( very refreshing) , cleaned up the job site every night before they left and were just very professional. Otto always returned my calls promptly which is very much appreciated. The neighbors are still driving by and looking at the job they did. I would highly recommend them for any masonry job you have. And hard workers to boot, rarely took time to eat lunch, seemed like they worked everyday straight through. Job well done Otto and Team!!
We were looking to do
TCB Masonry 5 5 4