Chimney Restoration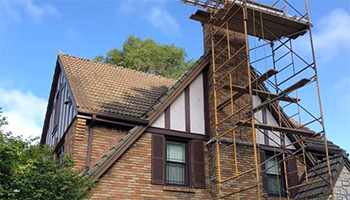 Chimney Repair, Rebuild, Restoration, and Masonry

Chimney Repair and Restoration in Rockford, IL
Family owned and operated serving Rockford, Illinois and all of Northern Illinois and Southern Wisconsin for just over 30 years and still growing. Whether it's a chimney that has seemed to perform fine for decades or a brand new chimney, an annual inspection will either find a safety problem or help you rest assured that your venting system is in good condition. We specialize in the big and small jobs that require extensive brick and stone masonry skills. TCB Masonry services residential and commercial restoration / renovation projects and new construction.

Rockford Chimney Restoration
While chimneys are designed to combat against some of the harshest elements, sometimes restoration work is needed. If you're unsure if you need chimney restorations or not, here's a few signs to look for that will indicate that your chimney needs work done.

1. Fumes and/or Smoke Enters Your Home
If you find that fumes or smoke are entering your home through your fireplace, and that there isn't issues like a closed damper or animal nest, then it could mean that your chimney is having venting issues and you'll need restoration work done to the flue to check on the lining and sealing.

2. Leaning Chimney
Take a minute to check to see if your chimney is leaning, if it is then this could be a bigger issue and will need restoration work urgently. Typically, when your chimney is leaning this will put major stress on the materials used for your home, tear the lining, and will most likely allow fire and/or exhaust into the upper levels of your home.

3. Missing Bricks and/or Stones
While chimneys are designed to handle both internal heat on the inside and treacherous weather elements on the outside, over time the mortar can wear down and bricks and stones will loosen. Take a look at your chimney, are you missing bricks or stones? If so, chimney restoration will need to be done in order to avoid weakening your chimney even more than it already is.

4. Spalling Bricks
If you notice that bits of masonry are falling off of your chimeny, then it's "spalling". What's Spalling? It's when water enters the stones or bricks which then causes the surface to flake (or peel) off. Take a look at your chimney, if you see that bits of masonry is falling off, it could cause your whole chimney to collapse if not taken care of.

5. Damaged Wallpaper
While those are all great signs to determine on whether or not you need chimney restoration, one of the tell tale signs is if your wallpaper is damaged. Moisture leakage will cause lumps, peeling, or "warping" to your wallpaper and will need chimney restoration right away seeing as this could be derived from a damaged masonry or a broken liner.

There hasn't been a masonry contractor who has built an indestructible chimney yet that can withstand all of the effects of weather and time, chimney restoration needs to be done in order to keep your chimney stable and your home safe. Give TCB Masonry a call today if you want an expert to come out and access your chimney to see if you need chimney restoration in Rockford, Il today!
Rockford Chimney Repair and Restoration Companies
TCB Masonry contractors in Rockford, Illinois offers chimney repair, brick chimney repair, and brick fireplace repair, restoration, new chimney and fireplace construction, and a complete selection of chimney caps, draft inducing chimney exhaust fans, clay chimney pot tops and top mount fireplace dampers. Also, cultured stone and brickwork, tuckpointing and caulking, glass block, and stone work – Professional Fireplace and Chimney repair services (including chimney sweep and chimney component cleaning of all types) covering Rockford, Il., Freeport, Il., Belvidere Il., Cherry Valley, Il., Loves Park, Il., Machesney Park, Il., Roscoe and Rockton Il., all of northern Illinois and southern Wisconsin.

Give us a call today when you're searching for the right contractor in Rockford who specializes in Chimney Restoration and Chimney Repair!
---
Take a look at some of TCB Masonry's happy customers below:
TCB Masonry
5
TCB Masonry
TCB Masonry
Great work at a great price. Otto is great and explained everything in detail. Will call for any masonry jobs in the future.
Aaron Asher
TCB Masonry
5
TCB Masonry
TCB Masonry
Otto and his team was so great to work with. After buying our home it came to be known that we had some spalling bricks on our chimney. Otto came out and gave us his estimate and was honest with us when it came to what we really needed, a whole new chimney. His team arrived on time and ready to work. Our chimney came out beautifully and we would definitely recommend TCB Masonry to anyone who is in need of any brickwork repair. Thanks so much!
Alexis Scott
TCB Masonry
5
TCB Masonry
TCB Masonry
I can't say enough positive things about Otto and his company. We had two chimneys at our 62 year old house which both needed work. Otto was extremely quick to come and give a detailed quote. His price was much more reasonable than that of another company. The work was done quickly and professionally. His crew was skilled, courteous and cleaned up the work site spotlessly. Otto came to check on the work twice and made follow up calls to make sure we were happy and that after a big rain, we didn't have any leaks and completed a few minor touch ups. Couldn't be happier with TCB.
Mark Snyder
TCB Masonry
5
TCB Masonry
TCB Masonry
TCB did a wonderful job rebuilding the chimney on my house. I am very happy with their work. The people arrived on time and cleaned up after themselves. Job well done! Their pricing was also very reasonable.
TCB did a wonderful job
TCB Masonry
5
TCB Masonry
TCB Masonry
Our chimney was in bad repair. After several estimates all requiring a lengthy wait just for the written estimate, Otto came right out , gave us a great price and kept in contact with us for a start date. His team was fantastic. The were kind and courteous and did an amazing job. After the work was complete, Otto returned to check the work and make sure we were happy with the job. I would definitely recommend TCB and use them for future work.
Theresa Klitz
TCB Masonry 5 5 5