Chimney Cleaning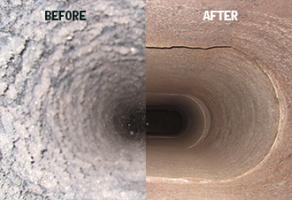 Are you in need of a chimney cleaning? A poorly cleaned chimney can raise your heating costs as well as become a fire hazard.
Without regular cleaning, creosote can build up. Creosote is a highly flammable residue that can be one of your chimney's worst enemies. When you burn wood, tiny unburned pieces fly up the chimney with the smoke. Once those pieces hit the cold surface of the chimney, they begin to coat and solidify. After some time, this layer of Creosote will become a fuel source and any rising flames or sparks may ignite the coating leading to a house fire. As we enter into the colder months of the year, keep your house safe and have ease of mind by having your chimney properly cleaned.

Chimney Cleaning Services
How to look for signs or Creosote buildup:
Dark smoke coming from your chimney
Soot on your furniture
Smoke coming into your home
Rockford Chimney Cleaning Companies
The frequency for a chimney inspection is dependent upon the amount you burn. Contact our professionals for a free inspection!